Beauty Shoot with Erika Photographer: Shavonne Wong/ Zhiffy Photography Model: Erika Tan (Nu Models) Makeup & Hair: Marie Soh
Well this post is certainly long overdued now that I'm in NYC and this shoot was from a month ago. Hah. This shoot was my first personal shoot from a year full of client projects and corporate shoots and man, what a release it was. No briefs, schedules or no clients in my head. Gotta enjoy times like those! Haha.
So anyway, this shoot was really impromptu. Being really last minute, I didn't get a stylist so it just became a beauty shoot. I had gotten the crown from Taobao, which is just the most amazing cheapest shopping website ever, and the model is a good friend of mine who I love shooting with from time to time. Makeup artist was this talented lady I met on a Her World Brides shoot (will upload that soon) and was as always, a pleasure to work with. A good makeup artist is especially important on a beauty shoot!
Okay, now on how this was done. Eh, to be honest, I didn't do much planning. All I knew was I wanted dramatic lighting and slight movement in the final image. My main light was using my strobe with an optical snoot. It's a strange modifier and I'm still trying to figure it out, but it pretty much works like a spot light. My second light, which would be my modelling light, was just a simple LED light.
I'm not sure if I am going to be able to explain this properly, I am not a very technical person. So in layman terms, I knew I had to drag out my shutter speed to portray movement. However I didn't want a whole image of motion blur so I needed something to freeze the scene, which would be my strobe. I then needed the LED light which lights up the image during the remaining time the shutter was open, capturing the movement as seen in the crown. Does that make any sense?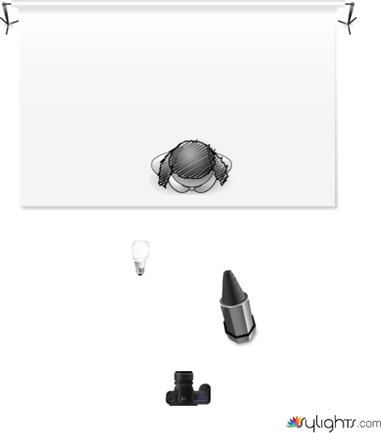 If it helps, here's the lighting diagram anyway!
Well let me know in the comments if it's still not clear! Haha and I'll try and do better!